Ten years ago the West Coast was literally shut down when the Longshoremen's Association (ILA) and United States Maritime Alliance (USMX) talks to strike a new labor deal couldn't be agreed upon. The ramifications were felt instantly and did their part to stagger the United States' economy and economic growth, resulting in billions of dollars in damage to the U.S. economy. You can read about it's beginning Here.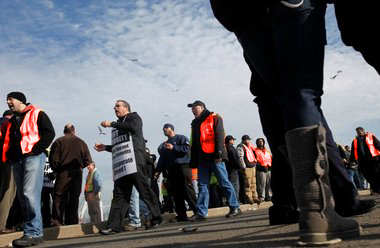 Today, 10 years after that epic collapse, the United States is staring at a similar situation happening on the East Coast. If the two sides can't come to an agreement by the September 30 deadline, there is a definite potential for a strike along the entire East Coast from Maine to Florida, and on to Texas. Although many are speculating that the U.S. government wouldn't allow this to happen at such a dire time for the economy, many involved in importing and exporting are preparing themselves for the worst.
As the September 30th deadline grows closer, many importers are already rerouting freight. Pending the outcome of the outcome of the situation, many estimate that there will be delays expected, regardless of the end result in the talks.
Should the strike actually take place, every port along the entire East Coast will be shut down, and any and all vessels will not be allowed to enter. Rerouting to the West Coast, or even Canada will cause considerable delays, and will certainly add to traffic and frustration even more once the freight is brought across the country by truck.
DRT will monitor the situation closely, but if you have any questions regarding the on time arrival of your goods you can contact one of our representatives today and get further assistance.